4-star hotels in Lorraine Region
---
As holiday travellers this was not located near the Metz centre for tourism, but was well placed in a business park and near s golf course. Much better value than many of the hotels we had encountered in our trip around France/Switzerland/Germany. Friendly, helpful staff. Very modern (in 2018) and clean. Good facilities including pool, and free parking area in front...
---
We enjoyed the hotel facilities with your kids , although it would be great to habe aswimming pool, kidshad fun at the jacuzzi. Morning breakfast was awesome with many choices.
---
We enjoyed our stay. The room was slightly small, but still adequate. Quality bathroom toiletries were supplied. The breakfast had lots of choices. Room had tea and coffee making facilities.
---
Beautiful historic building located right in the heart of the old town. Well appointed rooms and the most comfortable hotel bed I can remember - slept like a baby. Friendly obliging staff who couldn't do enough to help. Fantastic breakfast. Only minor downside was the lack of a standing shower.
---
Service was kindly and helpful
Pierre-Georges
, Switzerland
---
I came there with my wife on the way to Paris to relax. We arrived late but the reception staff was very friendly and was speaking english very well (which surprised me in France). The room was small but very beautifull and clean. the breakfast was french style and we enjoyed that. Especially I have to say the very friendly and helpfull staff in the hotel. Thanks to...
---
Modern boutique style hotel, may be the best value for the money in France. Clean, state of the art rooms, shower, tv. 11 euro breakfast. Friendly staff. Easy access on main road into town, parking. I would stay here anytime!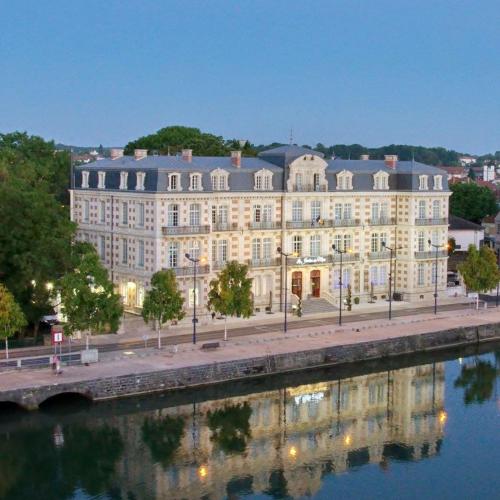 ---
Wow, what a great hotel! Really nicely appointed rooms with tea and coffee making facilities. Large bathroom with great shower (no bath). Lovely Juliette balcony overlooking the river. Free parking on site. We didn't have their breakfast but found a cafe over the river for coffee and croissants, very short walk. The staff were excellent. Must stay hotel if passing thro...
---
More about Lorraine Region
Lorraine is one of the 22 regions of France that travelers like to visit. Search for special offers from over 1188 hotels on Agoda.com. Our instant confirmation gives you piece of mind and more time explore popular cities such as Metz, Nancy, Woippy. The Region receives many visitors due to its unique and interesting features. With availability in more than 22,000 cities worldwide, more travelers today are choosing Agoda.com to search for hotels in Lorraine.